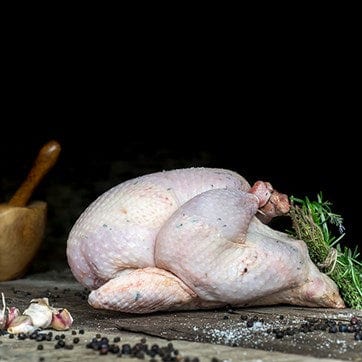 Devon Organic Turkey, Bronze
Description
A delicious organic turkey. The best quality Heritage turkey ensures a moist and flavoursome centrepiece for a special lunch! These delicious organic turkeys are fed on a mixture of homegrown cereals and love to go foraging for themselves in the rich pasture meadows. They are then hung for two weeks to develop their flavour and texture.
Turkey Size Guide
4kg (3.5kg-4.5kg) approx servings 9
5kg (4.5kg-5.5kg) approx servings 11
6kg (5.5kg-6.5kg) approx servings 13
7kg (6.5kg-7.5kg) approx servings 15
8kg (7.5kg-8.5kg) approx servings 17
9kg (8.5kg-9.5kg) approx servings 19
Ingredients
Organic Free Range Turkey
Producer
Our Bronze turkeys are slow-grown and carefully reared on the Malseed family farm on lush Dartmoor pasture. The turkeys are reared using traditional farming methods and allowed to mature slowly over several months. They are fed on a healthy diet consisting of organic cereals and natural ingredients with no additives or growth promoters, then finished on local oats to provide an excellent taste and marbling. They even drink Dartmoor spring water! These organic turkeys are clever birds and need a lot of entertainment so are kept busy with toys to play with, as well as lots of pasture to stretch their legs and enjoy the fresh Devonshire air.


&nbsp