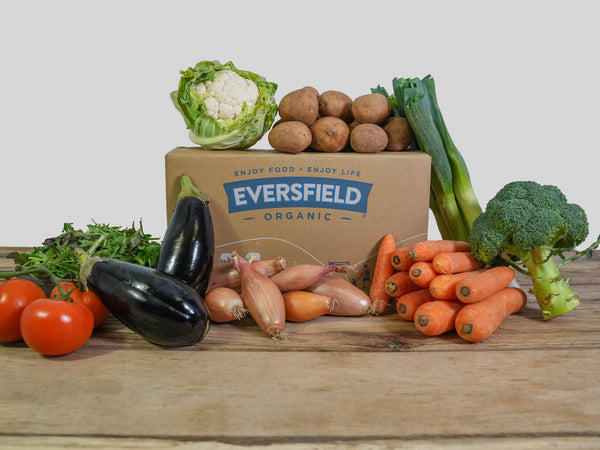 Description
A tasty selection of organic vegetables plucked fresh from pesticide-free soils and delivered to your door as often as you please.
This vegetable delivery box feeds 4-5 people for 1 week with at least 9 varieties per box. Varieties included may differ from those listed depending on harvests and availability.
Producer
At Eversfield Organic all our delicious, organic vegetables are freshly picked from pesticide and chemical-free soils, plus sourced locally wherever possible. Our wide selection differs from season to season, boasting a variety of popular veggies to add a colourful crunch or tender taste to your daily diet. The perfect way to get your five-a-day and add vibrance to your plate, our veg varieties are slow-grown in the most fertile of soils for naturally nutritious, flavoursome superfoods packed full of goodness. The fresh vegetables are bundled and boxed up, delivered straight to your door fuss-free. 
Contents
100% Organic Vegetables

4th - 10th December:
White Cabbage - 1
Red Onions - 750g
Carrots - 750g
Baby Spinach - 100g
Chestnut Mushrooms - 200g
Leeks - 500g
Cauliflower - 1
Baking Potatoes - 700g
Broccoli - 1

11th - 17th December:
Cauliflower - 1
Carrots - 750g
Onions - 750g
White Mushrooms - 200g
White Potatoes - 1kg
Baby Spinach - 100g
White Cabbage - 1
Celery - 1
Beetroot - 750g

&nbsp