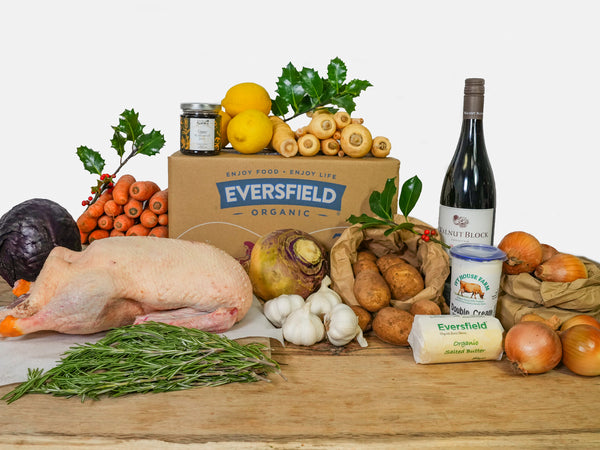 Christmas Duck Banquet Box
Description
Everything you need for an absolutely beautiful, organic festive spread. Succulent organic duck from the rolling Devon countryside is the perfect companion to all the trimmings, from golden roast potatoes to full-flavoured, fruity gravy. Our Banquet Boxes are complete with reusable, easy to follow recipe cards and topped off with a bottle of organic Walnut Block Nutcracker Pinot Noir wine.
Recipe Cards Included:
Roast Duck
Balsamic Red Cabbage
Roasted Roots
Redcurrant & Rosemary Gravy
Garlic & Rosemary Potatoes
Creamy Mashed Carrot & Swede
Serves 4 aprroximately
See below for full list of contents.
Producer
From an organic parent flock of Peking ducks, our ducklings arrive with our lovely farmer, Ross for a first week on the farm cosying up under heat lamps. On the East Devon farm, they then spend another week pottering indoors before they are ready to go wild exploring further afield on the Devon hills. With a fresh pool to splash and bathe in, and straw-filled houses to recline when all the frolicking gets too much, these ducks are a chilled-out bunch. Open fields to roam allow for a totally organic and natural development. The riverbed of the Otter is the perfect backdrop for slow growing plump, well-fed ducks.
Contents
Contents:
Devon Organic Duck, Pekin - 2-2.3kg
Red Cabbage - 1
Onions - 500g
Salted Butter, Eversfield Organic - 200g
Carrots - 1kg x2
Parsnips - 750g
Dried Garlic 2 Bulbs - x2
Oranges - 1kg
Rosemary - 20g
Kitchen Garden Redcurrant Jelly - 220g
White Potatoes - 1kg
Swede - 1
Pasture for Life Certified Cream - 300ml
Walnut Block Nutcracker Pinot Noir - 750ml

&nbsp