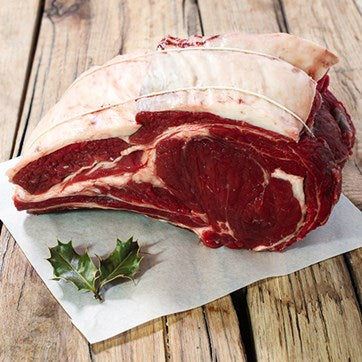 45 Day Aged PFL Rib of Beef
Description
It doesn't get much better than this. Beautifully marbled and utterly flavoursome, our organic grass fed beef has been dry aged aside a Himalayan salt wall for 45 days to reach maximum succulence and the most delicious flavour. Cook rare or slow roast for melt-in-the-mouth tenderness... you and your guests will be smiling all Christmas.
Ingredients
Organic and Pasture-Fed for Life Beef
Producer
Alongside the beef from our own farm nestled on the edge of Dartmoor National Park, we use a family of local beef farms that work exclusively with Eversfield Organic. The cows spend their days grazing freely on a wide variety of native grasses, wildflowers and herbs, roaming the fields and resting under the trees. In the winter, they are given homegrown, organic silage and hay to munch throughout the day. We use traditional British cattle breeds which benefit from natural, slow growing lives and produce beautifully marbled beef. Our beef is then hung for at least 21 days to mature the flavour for a tender, flavourful meat. This creates an exceptional flavour and soft texture that is second to none. From our own cured pastrami to slow-roasting joints, we are immensely proud of our organic, pasture fed beef.
&nbsp