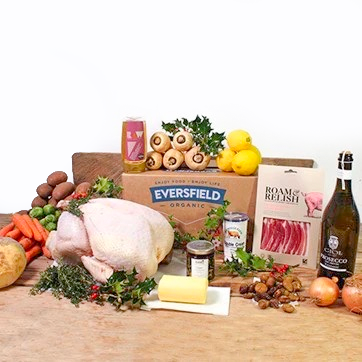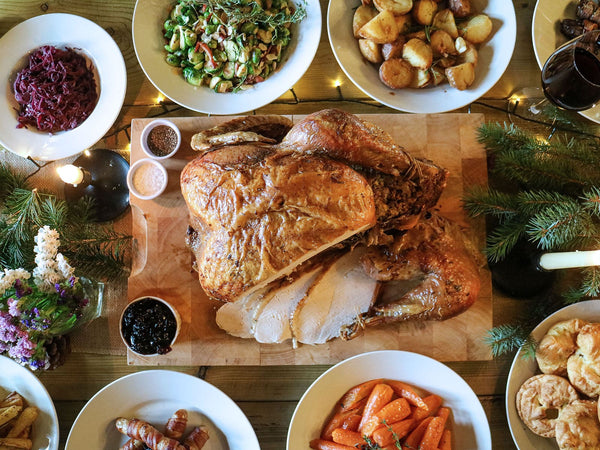 Christmas Turkey Banquet Box
Description
Everything you need for an absolutely beautiful, organic festive spread. Classic Christmas turkey from organic, local farms beside all the trimmings for the ultimate Christmas day feast. Comes with reusable recipe cards and a bottle of Giol Prosecco Frizzante Spago to kickstart the celebrations.
Recipe Cards Included:
Roast Bronze Turkey - 4.5kg-5.5kg
Cranberry & Onion Gravy
Herby Roast Potatoes
Honey Roast Parsnips
Creamy Mashed Carrot & Swede
Chestnuts Wrapped in Streaky Bacon
Zesty Shredded Sprouts
Serves 6 to 8.
Producer
Our Bronze turkeys are slow-grown and carefully reared on the Malseed family farm on lush Dartmoor pasture. The turkeys are reared using traditional farming methods and allowed to mature slowly over several months. They are fed on a healthy diet consisting of organic cereals and natural ingredients with no additives or growth promoters, then finished on local oats to provide an excellent taste and marbling. They even drink Dartmoor spring water! These organic turkeys are clever birds and need a lot of entertainment so are kept busy with toys to play with, as well as lots of pasture to stretch their legs and enjoy the fresh Devonshire air.
Contents
Contents:
Devon Organic Turkey, Bronze - 4.5-5.5kg
Unsmoked Streaky Bacon - 184g
Salted Butter, Eversfield Organic - 200g
Pasture for Life Certified Cream - 300ml
Kitchen Garden Cranberry Sauce - 200g
Swede - 1
Carrots - 1kg
White Potatoes - 1kg x2
Brussels Sprouts - 500g
Parsnips - 750g
Lemons - 600g
Onions - 500g x2
French Chestnuts - 200g
Giol Prosecco Frizzante - 750ml

&nbsp