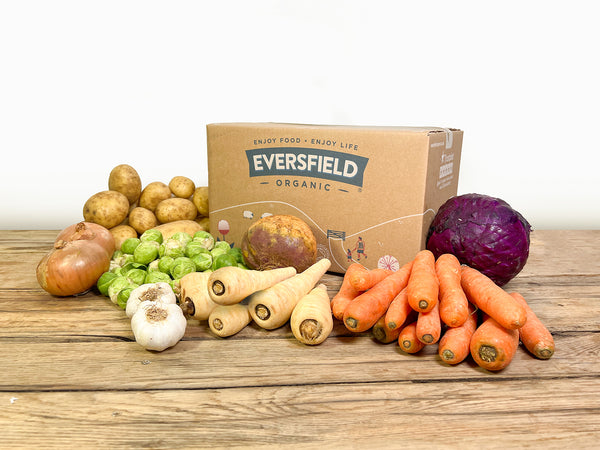 Description
Easily complete your Christmas dinner with a handy, pre-selected Christmas Vegetable Box. Brimming with organic, seasonal vegetables freshly picked from pesticide-free soils for the most delicious dinner trimmings. Crisp and clean with enough to feed the family this Christmas.
Small Box - feeds 4-6
Large Box - feeds 8-10
Bumper Box - feeds 12-14
See below for full contents. 
Ingredients
Producer
At Eversfield Organic all our delicious, organic vegetables are freshly picked from pesticide and chemical-free soils, plus sourced locally wherever possible. Our wide selection differs from season to season, boasting a variety of popular veggies to add a colourful crunch or tender taste to your daily diet. The perfect way to get your five-a-day and add vibrance to your plate, our veg varieties are slow-grown in the most fertile of soils for naturally nutritious, flavoursome superfoods packed full of goodness. The fresh vegetables are bundled and boxed up, delivered straight to your door fuss-free. 
Contents
Small Vegetable Box (feeds 4-6):
White Potatoes - 1.5kg
Brussel Sprouts - 500g
Carrots - 500g
Parsnips 750g
Onions - 500g
Red Cabbage- x1
Swede - x1
Garlic x1

Large Vegetable Box (feeds 8-10):
White Potatoes - 2.5kg
Brussel Sprouts - 1kg
Carrots - 1.5kg 
Parsnips - 1.5kg
Onions - 500g
Red Cabbage - x1
Swede - x1
Garlic x2

Bumper Vegetable Box (feeds 12-14):
White Potatoes - 3.5kg
Brussel Sprouts - 1.5kg
Carrots - 2.5kg
Parsnips - 2.5kg
Onions - 1kg
Red Cabbage - x2
Swede - x2
Garlic - x3
&nbsp