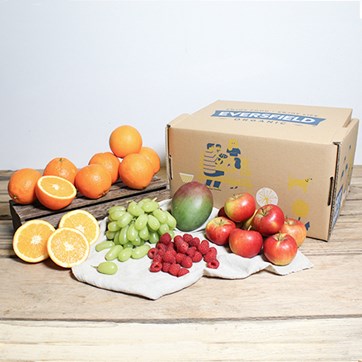 Description
An ever changing weekly selection of our organic seasonal fruit to fill your fruit bowl.
Five delicious varieties depending on seasonality and availability.
Please note: Contents may change due to availability!
Producer
At Eversfield Organic all our delicious, organic fruits are freshly picked from pesticide and chemical-free soils, plus sourced locally wherever possible. Our wide selection differs from season to season, boasting a variety of popular picks to add a ripe juiciness or crisp zing to your daily diet. An easy way to get your five-a-day and add some colour to your plate, our fruit varieties are slow-grown in the most fertile of soils for naturally nutritious, flavoursome powerhouses jam packed with vitamins and antioxidants. The mood-boosting fruits are bundled and boxed up, delivered straight to your door fuss-free. 
Contents
100% Organic Fruit

20th - 26th November:
Bananas - 800g
Grapefruit - 2
Blueberries - 125g
Oranges - 1kg
Kiwi Fruit - 4

27th November - 3rd December:
Apples - 750g
Bananas - 800g
Kiwi Fruit - 4
Oranges - 1kg
Blueberries - 125g

&nbsp