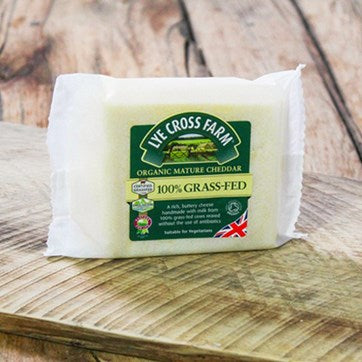 Lye Cross Grass Fed Cheddar
Description
This sharp and tasty cheddar is made from PFLA certified, grass fed for life milk. With a unique, delicious flavour, this makes a mouth-watering topper for a wild fish pie.
Minimum Shelf Life 14 Days
Ingredients
Organic cows Milk*, salt, vegetarian rennet, starter culture
Suitable for Vegetarians.
Producer
Lye Cross Farm - Situated in an area of outstanding natural beauty, Lye Cross Farm has 4,300 acres of beautiful pastureland. The Alvis family's multi-award-winning cheeses each have a distinctive personality and are made even more delicious by the fact that they use environment-conscious farming methods and produce organic cheeses alongside their infamous PFLA certified, organic sharp cheddar.
&nbsp