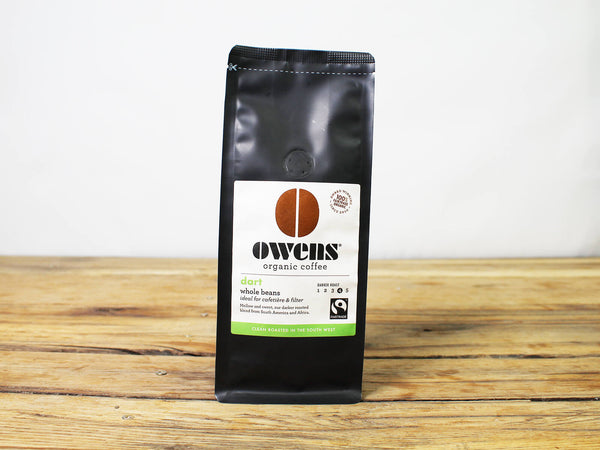 Owens Coffee Dart Wholebean
Description
A creamy and mellow mix of beans from Central America and Africa. A medium/dark roast blend with a citrus notes and a hint of honey, this coffee has a BIG flavour and is delicious at any time of day.
Roast strength 4.
Ingredients
Organic, Fairtrade Coffee
Producer
Owen's - Our delicious artisan coffee comes from husband and wife Tim and Lorraine Bridden who create their unique blends in Ivybridge, Devon. Profiled, blended and roasted in-house, the duo work tirelessly to create top quality, fresh and aromatic blends. Using 100% organic and Fairtrade beans, Owen's is not only sustainable but also traceable from seed to cup. Lorraine and Tim are always looking for ways to keep things green. Not only do they use compostable cups, but the hessian green bean sacks are sent to Dartmoor Zoo for use with the big cats' enclosures!
&nbsp