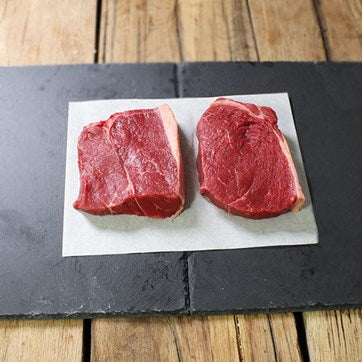 Pasture for Life Certified Beef Rump Steaks
Description
Organic, grass fed beef rump steaks from a Pasture for Life certified farm.
Taken from the hindquarter of our magnificent traditional breed beef and hung for 28 days, each of your steaks is hand cut and trimmed, with just the right amount of fat for a juicy, flavoursome steak supper.
Minimum Shelf Life: 10 Days 
Ingredients
Organic and pasture-fed for life certified beef.
Nutritional
Typical values per 100g
Energy 1044kj/252kcal
Fat 20.5g
(of which Saturates 9.1g)
Protein 16.8
Salt 0.13g
Producer
The Pasture Fed Livestock Association promotes the unique quality of produce raised exclusively on pasture, and the wider environmental and animal welfare benefits that pastured livestock systems represent. 
All of our beef and lamb is grass fed, however some of the farmers we work with are too small to warrant the yearly costs of becoming PFLA certified. In this range, you'll find organic beef and lamb from certified farms such as Eversfield Organic, and others we work alongside.
The interest around 100% grass fed meat is growing, but there is still a long way to go. By supporting us, you are helping to create a market and supply chain for PFLA certified meat but as this grows, our supply may be limited and often 'out of stock'. Thank you for supporting us in our mission to encourage farmers to support regenerative farming methods and become certified by the PFLA.
&nbsp