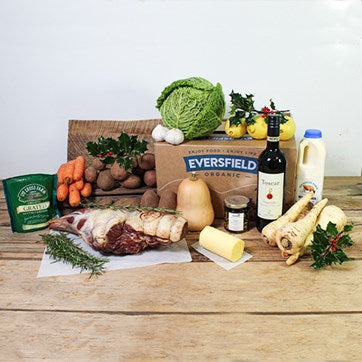 Christmas Smoked Leg of Lamb Banquet Box
Description
Everything you need for an absolutely beautiful, organic festive spread:
Roasted Smoked Leg of Lamb
Redcurrant and Rosemary Gravy
Dauphinois Potatoes
Lemon and Black Pepper Cabbage
Roasted Carrots and Parsnips
Pancetta Wrapped Butternut Squash
Serves 6 - 8All recipes included for you to use again and again.
Ingredients
Producer
At Eversfield Organic we use a selection of small, local sheep farms that work solely with us. Our farms have various breeds, from Scottish Blackface ewes to Manx Loaghtan sheep, who are of course all 100% grass-fed. They also have perfect parenting skills for those bouncy spring lambs and a friendly temperament. The lambs are also grass fed, so these happy little sheep spend their lives in the fields, the way it should be. They graze freely on organic pastures, roaming acres of luscious rolling hills. A clover-rich diet gives the meat a healthy covering of fat and marbling throughout, creating meltingly soft roasting joints, succulent centrepieces and tender, quick cooking steaks.
Contents
Contents:
Smoked Leg of Lamb - 2.4kg
Carrots - 1kg
Parsnips - 750g
Dried Garlic 2 Bulbs - x2
Lemons - 600g
Pasture for Life Certified Cream - 300ml
Pasture for Life Certfied Whole Milk - 1L
White Potatoes - 1kg
Glastonbury Farmhouse Mature Cheddar - 200g
Rosemary - 20g
Kitchen Garden Redcurrant Jelly - 220g
Salted Butter, Eversfield Organic - 200g
Savoy Cabbage - 1
Brussels Sprouts - 500g
Pancetta - 50g
Ijalba Reserva Rioja - 750ml

&nbsp