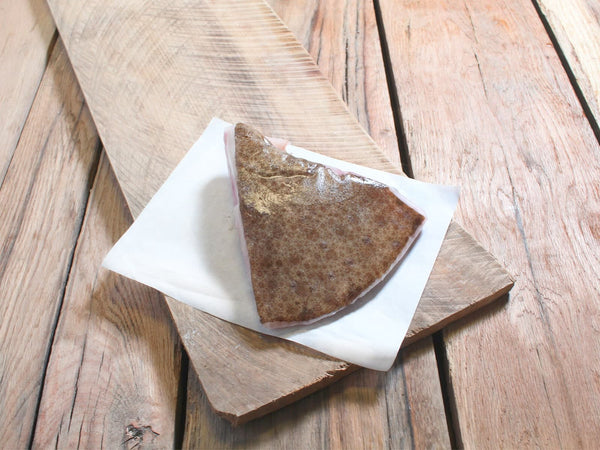 Wild Turbot Steak, previously frozen
Description
Super traceable - find boat and fisher on your pack of fresh fish
This flatfish has a creamy white flesh that is perfect for pan frying. Be generous with the butter and add a squeeze of lemon juice just before taking of the heat. You will have a turbot steak with buttery soft flesh and crispy skin. Serve with your choice of seasonal veggies and you'll have a meal you won't forget.
Please note: This product is sent frozen and whilst we do our best to keep your order chilly, this item may defrost partially or fully on its way to you. Not suitable for re-freezing. Eat within 5 days.
Ingredients
Contains fish. May contain traces of Molluscs and Crustaceans.
Producer
Sole of Discretion – the Sole of Discretion is a collection of small-scale fishers from the beautiful Plymouth harbourside, just a short drive from our farm. They focus on providing premium quality, ethical and sustainable fish with the environment in mind. All the fish and shellfish are caught with little damage to the surrounding marine environment, directly contributing to the livelihood of the small-scale fishermen and communities. A mix of rod, line, static gill, trammel nets and mid-water trawl fishing methods ensure the seabed is not impacted. The marine environment is also protected by low horse-power engines and habitat-mapping. The traceability of the fish is enhanced by the name of the fisherman and their boat on the packaging, which also adds a personal touch to each order.
&nbsp