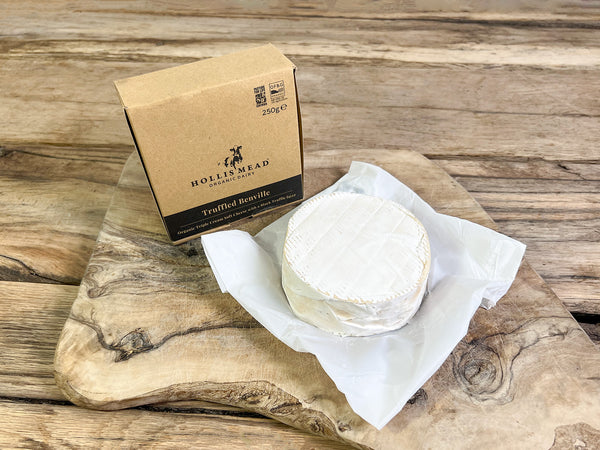 Pasture for Life Certified Truffled Benville Cheese
Description
Unique, indulgent and truly irresistible, Hollis Mead's classic organic Benville cheese has been given a luxurious twist with the addition of  rich truffle.
Wonderfully creamy and moreish, made using Hollis Mead's Pasture for Life certified milk, sweet notes of wild flowers contribute to the amazing flavour of this cheese.
Serve amongst your favourite organic cheeses and charcuterie, or layer in a crusty baguette for sandwich heaven.
Minimum Shelf Life - 7 days 
Ingredients
Cow's Milk, Mince Black Truffles
Producer
Hollis Mead's mission is to shake up the dairy industry for the better. With the highest standards of animal welfare, nature and biodiversity at the core of their organic farm and dairy, they champion sustainable, ethical dairy.

Being 100% pasture fed and certified by the Pasture For Life Association, their cows feed solely on the wild grasses and flowers at the farm, which results in less milk production than the average industrial dairy farm, yet greater quality and flavour in all their dairy products and happier, healthier cows!
&nbsp