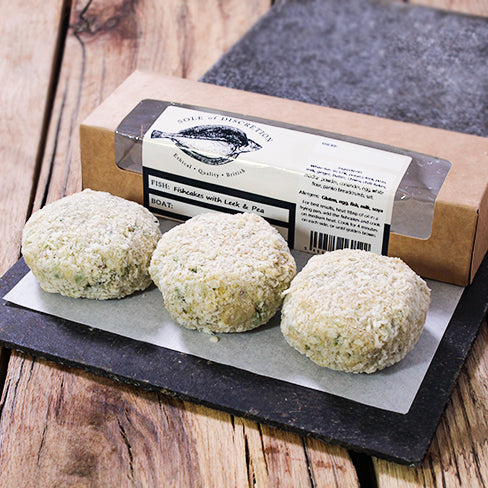 Zesty Wild Salmon Fishcakes, previously frozen
Description
The classic, delicious combination of potato and wild Alaskan salmon to create delectable fishcakes has had an upgrade! Freshly squeezed, organic lemon juice and zest adds extra depth to these yummy fish Friday dinner staples. Caught in the most sustainable and ethical way by the dedicated team at Sole of Discretion for a taste that is second to none. 
Ingredients
Potato, wild Alaskan salmon 46%, flour, freshly squeezed lemon, fresh parsley, sea salt and black pepper.
Allergens: gluten, fish
Producer
Sole of Discretion – the Sole of Discretion is a collection of small-scale fishers from the beautiful Plymouth harbourside, just a short drive from our farm. They focus on providing premium quality, ethical and sustainable fish with the environment in mind. All the fish and shellfish are caught with little damage to the surrounding marine environment, directly contributing to the livelihood of the small-scale fishermen and communities. A mix of rod, line, static gill, trammel nets and mid-water trawl fishing methods ensure the seabed is not impacted. The marine environment is also protected by low horse-power engines and habitat-mapping. The traceability of the fish is enhanced by the name of the fisherman and their boat on the packaging, which also adds a personal touch to each order. 
&nbsp