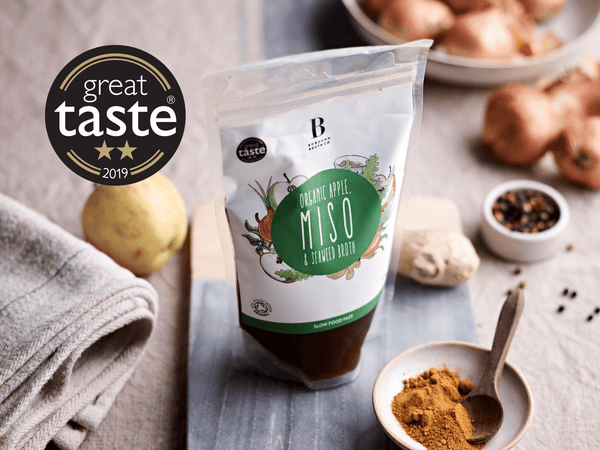 Apple, Miso and Seaweed Broth, Borough Broth
Description
Borough Broth Co. has come up with their organic apple, miso and seaweed broth as a delicious vegan alternative to traditional bone broths. Savoury depth of flavour comes courtesy of the brown-rice miso base which is pepped up by the tang of apples and given earthy complexity by British seaweed. The pectin from the apples acts in a similar way to the gelatine that would normally come from bones in a meat stock. A background hum of spice from turmeric, ginger and black pepper lends an authentic Japanese taste and makes this a light and invigorating stock to be drunk alone or used in your favourite recipes. 
Creating really tasty, hearty broths takes lots of time and plenty of lovely ingredients. It's what Borough Broth Co. specialises in and lots of time and experimentation has gone into creating recipes that really deliver on flavour. You won't find any preservatives, added sugars or MSG in Borough Broth Co. products so you can be assured that you're drinking a totally natural product with totally natural flavour. 
Minimum Shelf Life: 3 Days 
Ingredients
Spring Water*, Brown Rice Miso (Whole Soybeans (Soya) (47%), Cultured Brown Rice (33%), Sea Salt*, Water*), Apples, Onions, Ginger*, Seaweed, Black Peppercorns, Tumeric.
Nutritional
Per 100g: Energy: 57 kJ / 14 kcal | Fat: 0.4 g | of which saturates: 0.06 g | Carbohydrates: 1.8 g | of which sugars: 1.1 g | Fibre: 0.4g | Protein: 0.5 g | Salt: 0.63 g
&nbsp