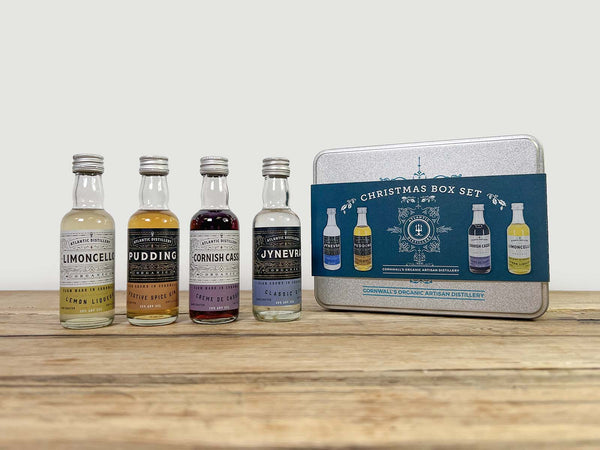 Atlantic Distillery Christmas Gift Set
Description
The perfect festive box set for those who love their gin. Includes four X 5cl bottles of Cornish-made boozy treats courtesy of our friends at Atlantic Distillery.
The box includes:
- Jynevra Classic Gin
- Limoncello Lemon Liqueur
- Cornish Creme De Cassis
- Pudding Festive Spice Gin
Producer
Atlantic Brewery – just a few miles from the gorgeous North coast of Cornwall on the Atlantic Ocean, this organic brewery operates from an 18th century farmhouse, offering organic bottled beers and cask ales. Established in 2005, the company managed to turn a half barrel pilot brew into a fully certified organic, award-winning microbrewery on the 2.5-acre Treisaac Farm, Newquay. All natural ingredients and techniques using local ingredients and eco-friendly practices, including solar panels, composted grain and glass and paper use over plastic, make this brewery the perfect choice for the environmental-conscious beer lovers of the world.
Contents
- Jynevra Classic Gin
- Limoncello Lemon Liqueur
- Cornish Creme De Cassis
- Pudding Festive Spice Gin
&nbsp