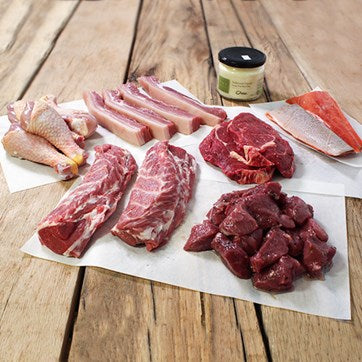 Description
The ketogenic (keto) diet is a high-fat, adequate-protein and low-carbohydrate diet. The keto enthusiasts among us know the importance of choosing the highest quality fats from pasture-raised, grass-fed organic meat.
Loaded with anti-inflammatory omega-3s and a fantastic protein profile, our keto box will ensure you hit your macro goal and stay in ketosis, while every meal will feel like an indulgent treat.
Serve up this hamper with iron-rich greens like organic spinach and broccoli for keto-friendly, delicious meals.
Contents
Organic, Grass-Fed, Free-range Meat
28 Day Dry Aged Picanha Steak 340g
Beef Steak Burgers 460g
Lamb Leg Shank x1
Lamb Diced 300g
Roam & Relish, Pastrami 90g
Beef fat - 500g
Wild Keta Salmon, Previously Frozen - 220g

Please note we will do our best to deliver what's listed depending on availability.
&nbsp