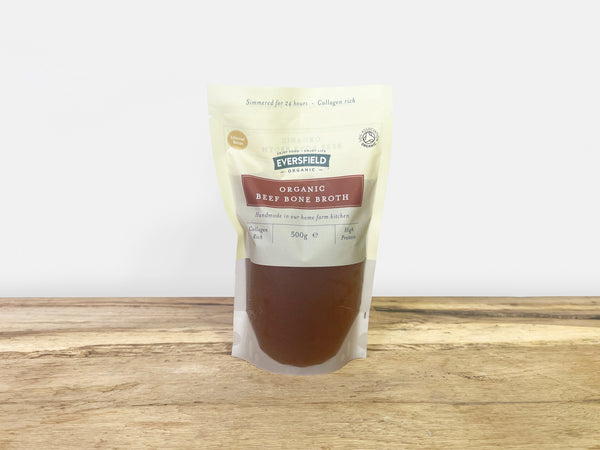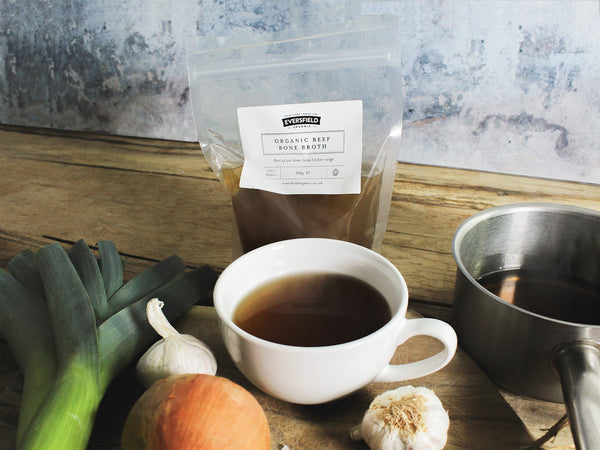 Description
Our Home Farm Kitchen broth range is currently out of stock, but don't worry, it will be back soon. We're working diligently to replenish our shelves with the freshest organic goodness. Stay tuned for its return.
Our organic bone broth contains easily absorbable doses of calcium, magnesium, phosphorus, vitamin A, zinc, iron, and a number of other essential properties.
Lovingly created in our Home Farm Kitchen with local organic ingredients, this product is exclusive to Eversfield Organic and as such cannot be found elsewhere.
In our unique cooking process, our small batch grass fed beef bone broth is simmered for 24 hours to extract maximum flavour and nutrients from the beef bones. We leave out all the nasty additives, emulsifiers and unnatural flavourings to create a versatile gut-friendly stock.
Whether you are looking for a rich, flavoursome base for a stew, trying a bone broth fast, or fancy bulking out a health shake, our artisan concoction is the natural and nutritious choice.
Minimum shelf life: 3 days (including day of delivery)
Ingredients
Grass Fed Beef Bones, Chicken Bones, Onions, Leeks, Carrot, Tomato, Garlic, Apple Cider Vinegar Thyme, Parsley, Peppercorns, Bay leaf. Water*
*denotes nonorganic, produced to organic standards. For allergens, including cereals containing gluten, please see in bold
May contain traces of nuts.


Nutritional
Typical value per 100g:
Energy 75.8kj/18kcal
Fat 0.5g
of which saturates 0.1g
Carbohydrates 0.9g
of which sugars 0.7g
Protein 3.6g
Salt 0.2g

Producer
Our Home Farm Kitchen range marks our first step into producing in-house products, honouring our closed loop sustainability system, aligning with our values of quality organic produce and bringing you new ways to enjoy Eversfield Organic products.
&nbsp