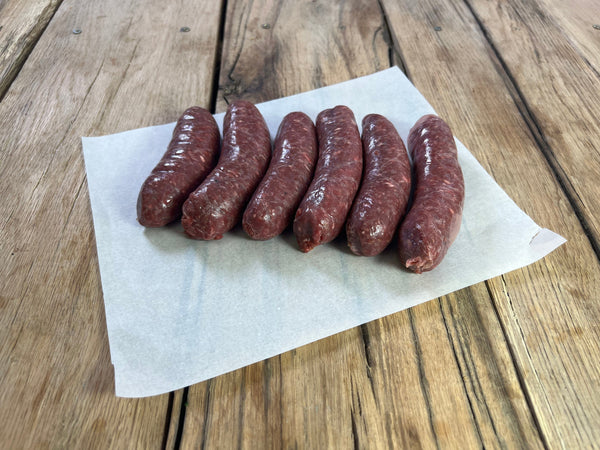 Wild Venison & Juniper Sausages
Description
Our traditionally-trained farm butchers have combined wild venison and a delicate selection of spices for a simply superb sausage.
Excellent as the main attraction in a homemade Toad in the Hole or slow-cooked in an organic Casserole. Alternatively, place between a couple of crusty slices of our organic bread for a fuss-free, hearty sandwich. 
Ingredients
wild venison, organic whole-wheat breadcrumb (organic wholemeal wheat flour, water, salt, anti-caking agent e535, yeast), organic potato starch, sea salt, antioxidant e300, organic onion powder, organic tomato powder, organic garlic powder, organic coarse black pepper, organic ground coriander, flavouring, yeast extract, organic rubbed parsley, organic rosemary extract

Allergy Advice: For allergens, see ingredients in CAPITALS.
Nutritional
Energy 570 KJ 135 Kcal Fat of which saturates 1g Carbohydrate 7.1 of which sugars 0.61g Protein 22.8g Salt 1.24g Fibre 0.9g
Producer
Our deer stalker started selling quality wild venison and game aged 17, with knowledge gained from a farming background. His wild venison and pheasant are truly special with a naturally rich flavour. These animals are not classified as organic as they are completely wild. This means they eat what they please and roam where they please across estates in the South of England. The meat is leaner than farmed meats and goes perfectly with British fruits such as blackberries, juniper berries and redcurrants.


Allergens
&nbsp