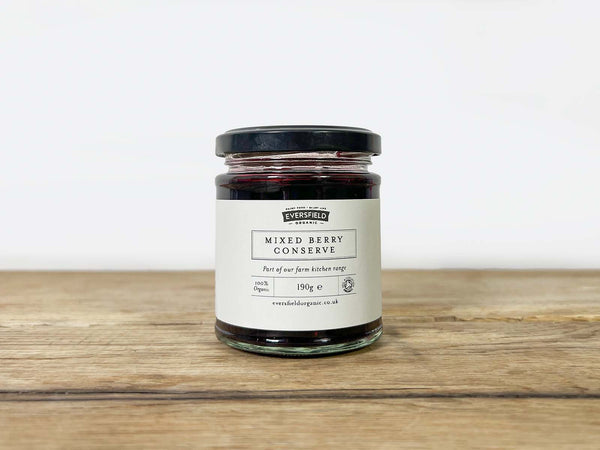 Description
Bursting with flavour, this 100% organic jam contains a delicious mixture of strawberries, blueberries, blackberries, cranberries and raspberries for a sweet, tangy treat at the breakfast table.
Lovingly created in our Home Farm Kitchen with local organic ingredients, this product is exclusive to Eversfield Organic and as such cannot be found elsewhere.
We recommend spreading it over toasted organic sourdough for the perfect accompaniment. 
Ingredients
Sugar, Strawberries, Blueberries, *Water, Blackcurrants, Raspberries, Lemons * denotes Non-organic but produced to organic standards
Nutritional

per 100g
Energy 645kJ/152kcal
Fat 0g
of which Saturates 0g
Carbohydrate 36g
of which Sugars 36g
Protein 0g
Salt 0g

Producer
Our Executive Chef, Dan, has been hard at work over the last few months creating a number of delicious organic dishes in our Home Farm Kitchen. Inspired by the breathtaking landscapes of our farm, as well as his own travels and tastes, Dan has perfected an extensive range of ready meals, pastries, broths, and more. So, sample the authentic flavours of Eversfield Organic.
&nbsp