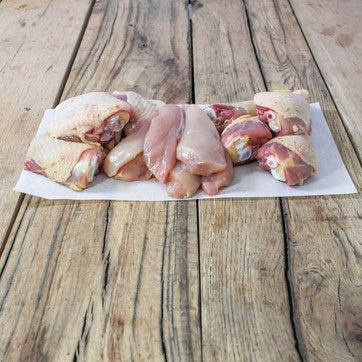 Description
A handpicked selection of free range organic chicken. This chicken box is a great pick for those searching for a delicious selection of organic chicken, without breaking the bank.
Minimum shelf life: 3 days (including day of delivery)
Producer
Our super organic chicken farmer, Ross, is based in the hills of Honiton, Devon on a family run farm supplying some of the finest organic poultry in the country. The chickens are reared in small flocks with open fields to roam and forage, where they can enjoy a peaceful and happy life, scratching and pecking for their own tasty treats. In addition, they are fed a 100% organic diet and kept cosy at night in warm shelters, free from the routine use of antibiotics. With more than 40 years of animal welfare experience and a Soil Association certification, you can really taste the difference with these organic chickens. Because they are slow-grown and well fed, our chickens are meaty, perfect for family meals. The organic chicken wings and succulent, tasty and great to keep cooked in the fridge for a healthy snack!
Contents
Organic and Free Range Chicken

Chicken Breast Diced - 400g
Chicken Breast Fillets Boneless and Skinless - 400g
Chicken Drumsticks, Family Pack - 8






&nbsp