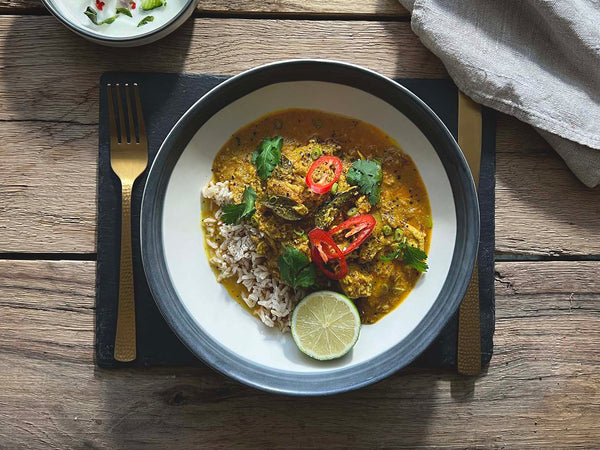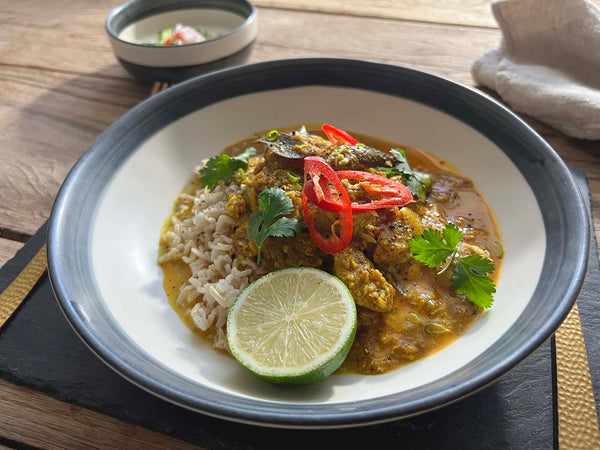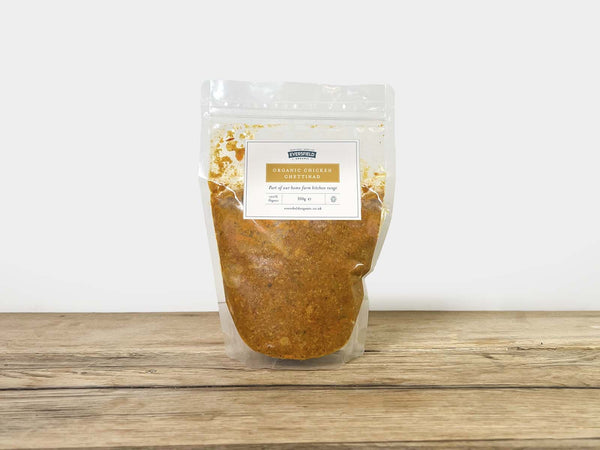 Tamil Chicken Curry, Previously Frozen
Description
This Tamil chicken curry contains an authentic spice blend which is sure to transport you to the Chettinadu region of Tamil Nadu, India. Coriander, cinammon, cumin and chillis all combine to create a curry with a kick!
Serve with your choice of rice and a couple of healthy dollops of mango chutney for a gorgeous midweek meal.
Lovingly created in our Home Farm Kitchen with local organic ingredients, this product is exclusive to Eversfield Organic and as such cannot be found elsewhere.
This product is frozen and will defrost whilst in transit to you. Ensure this product is thoroughly defrosted before cooking. We strongly recommend cooking within 24 hours for best quality. This product must not be refrozen.
Cooking Instructions:
Empty contents into a saucepan. Bring to low-medium heat, add one tablespoon of water and simmer for 6-8 minutes, stirring occasionally. When thoroughly heated, serve immediately alongside fluffy rice and your choice of garnish.
Each pack will serve three. If you're feeling hungry then a more generous portion size will serve two!
Ingredients
Diced Chicken (51.2%), Chopped Tomatoes (15.98%), Chicken Stock: (25.57%) (Water*, Chicken Bones, Onions, Carrots, CELERY, Tomato's, Apple Cider Vinegar, Parsley, Thyme, Peppercorns, Bay leaf, Salt*) Onions (22.38%), Curry Leaves, Red Chilli, Paprika, Turmeric, Garlic, Ginger, Desiccated Coconut, Coconut Oil, Poppy Seed, BLACK MUSTARD SEEDS, Cumin, Coriander, Fennel, Cloves, Cardamom
*denotes nonorganic, produced to organic standards. For allergens, including cereals containing gluten, please see in bold
Nutritional
per 100g
Energy 593kJ/143kcal
Fat 11g
of which Saturates 5.2g
Carbohydrate 3.2g
of which Sugars 1.9g
Protein 7.4g
Salt 0.62g

Producer
Our Executive Chef, Dan, has been hard at work over the last few months creating a number of delicious organic dishes in our Home Farm Kitchen. Inspired by the breathtaking landscapes of our farm, as well as his own travels and tastes, Dan has perfected an extensive range of ready meals, pastries, broths, and more. So, sample the authentic flavours of Eversfield Organic.
Allergens
CELERY, BLACK MUSTARD SEEDS
&nbsp