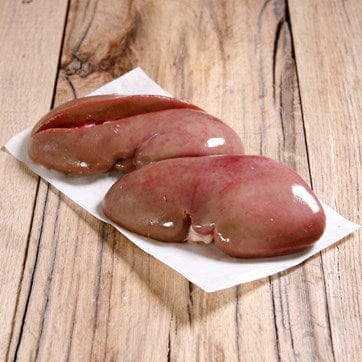 Description
Great for established offal fans, these organic pigs kidneys are a flavoursome choice for the bold home cook. A nutritional wonder high in protein and iron and very low in fat.
Minimum Shelf Life: 8 Days 
Ingredients
Organic, Outdoor Bred and Reared Pork
Please note this produced in a factory that handles Gluten
Nutritional
Typical values per 100g
Energy 726kj/173kcal
Fat 7.3gg
(of which Saturates 1.1g)
Protein 26.7g
Salt 0.57g
Producer
Our organic pork comes from two partner pig farms, one here in Devon and one in Gloucestershire. Their pigs are outdoor bred and reared and spend their whole lives outside, the way it should be. They come from a British Landrace cross Duroc sow, giving lean meat with defined contrast in the joints, so we can do everything from our famous Roam & Relish bacon from the flavour-rich belly to a pull-apart, slow cooked shoulder joint. The pigs are free to roam, wander and forage as much as they please and are given an organic feed to get those vital vitamins and minerals they can't find from the ground. In the summer they wallow in cool mud baths and in the winter, they can snuggle up in deep beds of fresh straw. Unlike intensive farms, their tails and teeth are left unharmed. Animal welfare is at the heart of everything we stand for and these pigs lead a natural and happy life. Every cut is hand finished, cooked with carefully selected cures and butchered using traditional methods. From bacon to slow-roasting joints, chops and sausages, we're proud of our organic pork.
&nbsp