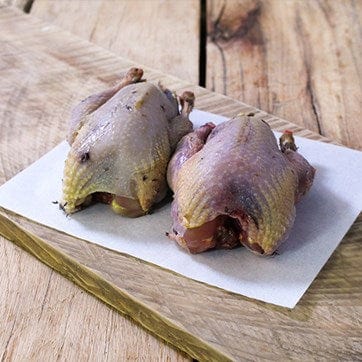 Wild Partridge Brace, Previously Frozen
Description
Wild partridge is a lean bird with plenty of flavour to offer. Try rubbing salted butter under the skin before roasting on a bed of chunky veg with sprigs of fresh thyme and roasted garlic. For extra succulence, lay our honey smoked streaky bacon over the skin before roasting and let the flavours combine...
Please note: This product has been previously frozen and will arrive to you on the defrost, also may contain shot.
Ingredients
Producer
Our deer stalker started selling quality wild venison and game aged 17, with knowledge gained from a farming background. His wild venison and pheasant are truly special with a naturally rich flavour. These animals are not classified as organic as they are completely wild. This means they eat what they please and roam where they please across estates in the South of England. The meat is leaner than farmed meats and goes perfectly with British fruits such as blackberries, juniper berries and redcurrants.
&nbsp