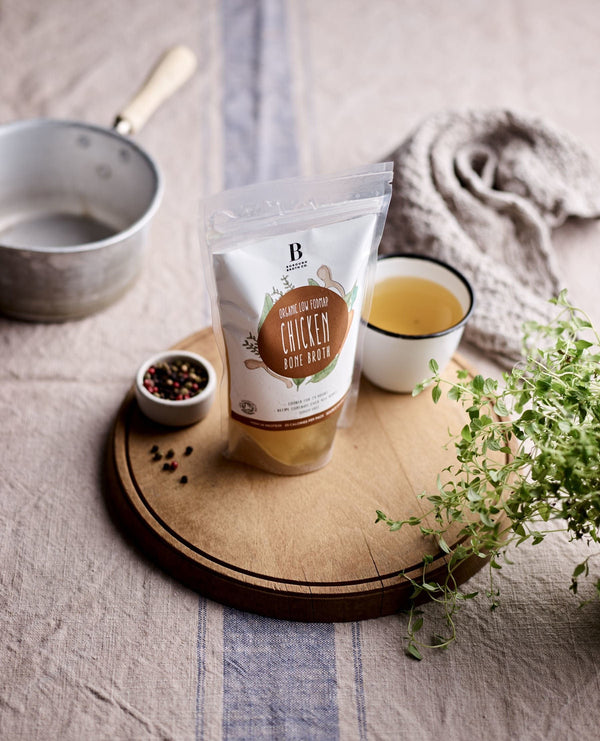 Low FODMAP Chicken Bone Broth, Borough Broth
Description
Low FODMAP Free-range Organic Chicken Bone Broth from Borough Broth Co. is completely free from onions, garlic and other high FODMAP (highly fermentable) foods. Made from a handful of carefully chosen ingredients, a slow 24-hour cook ensures this gelatinous broth is rich but digestible. It's made to complement gut-healing diets such as low FODMAP, AIP, SIBO and GAPS that are designed to ease symptoms of IBS and other gastrointestinal diseases. For those who can't tolerate coffee, a hot cup of broth in the morning might just help you start the day off right.
Minimum Shelf Life: 14 Days
Ingredients
Spring Water*, Chicken Bones (42%), Carrots, Apple Cider Vinegar, Black Peppercorns, Pink Himilayan Salt*, Thyme, Bay Leaves
Nutritional
Per 100g: Energy: 33 kJ / 8 kcal | Fat: 0.1 g | of which saturates: 0.04 g | Carbohydrates: 0.5 g | of which sugars: 0.5 g | Fibre: 0.4g | Protein: 1.4 g | Salt: 0.5 g | Collagen: 1.2 g.
&nbsp