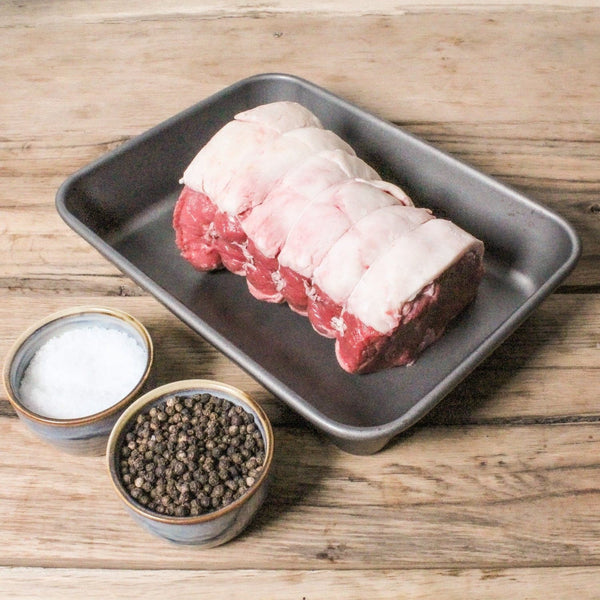 28 Day Dry Aged Beef Topside
Description
We are all little piggies when it comes to roast beef. Our organic beef topside is undoubtedly one of our favourite selections when assembling the ultimate roast dinner.
Juicy and tender, this is best-cooked medium to rare, and if you're inviting us we'd request roast potatoes cooked in organic beef fat!
Minimum Shelf Life: 9 Days 
Approximate Servings:
1.2kg - Serves 5
2.4kg - Serves 10
Ingredients
Organic and Pasture-Fed for Life Beef
Please note this produced in a factory that handles Gluten
Nutritional
Typical values per 100g
Energy 821kj/197kcal
Fat 13.5
(of which Saturates 5.8g)
Protein 18.9
Salt 0.15g
Producer
Alongside the beef from our own farm nestled on the edge of Dartmoor National Park, we use a family of local beef farms that work exclusively with Eversfield Organic. The cows spend their days grazing freely on a wide variety of native grasses, wildflowers and herbs, roaming the fields and resting under the trees. In the winter, they are given homegrown, organic silage and hay to munch throughout the day. We use traditional British cattle breeds which benefit from natural, slow growing lives and produce beautifully marbled beef. Our beef is then hung for at least 21 days to mature the flavour for a tender, flavourful meat. This creates an exceptional flavour and soft texture that is second to none. From our own cured pastrami to slow-roasting joints, we are immensely proud of our organic, pasture fed beef.
&nbsp