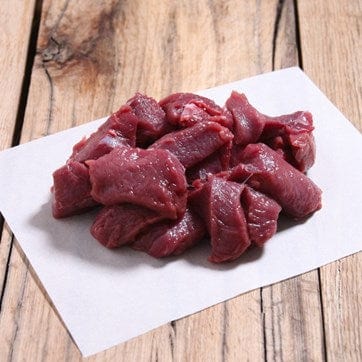 Description
Rich and intensely flavoured wild game meat. Convenient chunks of diced venison, ready to be added to your homemade stew.
Ingredients
Nutritional
Typical values per 100g
Energy 441kj/104kcal
Fat 1.1g
(of which Saturates 0.6g)
Protein 22.2g
Salt 0.28g
Producer
Our deer stalker started selling quality wild venison and game aged 17, with knowledge gained from a farming background. His wild venison and pheasant are truly special with a naturally rich flavour. These animals are not classified as organic as they are completely wild. This means they eat what they please and roam where they please across estates in the South of England. The meat is leaner than farmed meats and goes perfectly with British fruits such as blackberries, juniper berries and redcurrants.
&nbsp