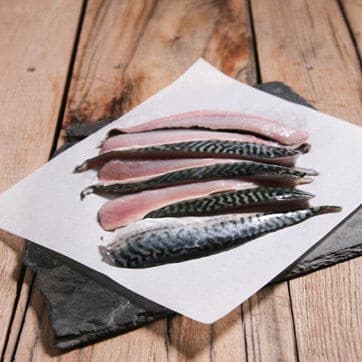 Description
The majority of our mackerel is hand-line caught from the beautiful shores of St Ives Bay. Feel virtuous enjoying this little fish, rich in omega-3 oils and from plentiful local stocks. A full-flavoured, oily fish; mackerel is delicious with clean, citrus sauces and marinades. We love it grilled or barbecued with an orange and chilli marinade and served with a beetroot and dill salad.
Ingredients
Contains fish. May contain traces of Molluscs and Crustaceans.
Producer
Matthew Stevens – award-winning fish from St. Ives, Cornwall. Five generations of fishermen endorse strong family values and sustainable fishing since 1960. An important asset to the local communities and Cornish economy, Matthew Stevens fishermen are conscious of their impact on wild stock as well as encouraging the benefits of fresh fish and traceability. Their positive and responsible environmental impact have earned the company the coveted position of supplier to both Rick Stein's and Jamie Oliver's establishments in Cornwall.
&nbsp