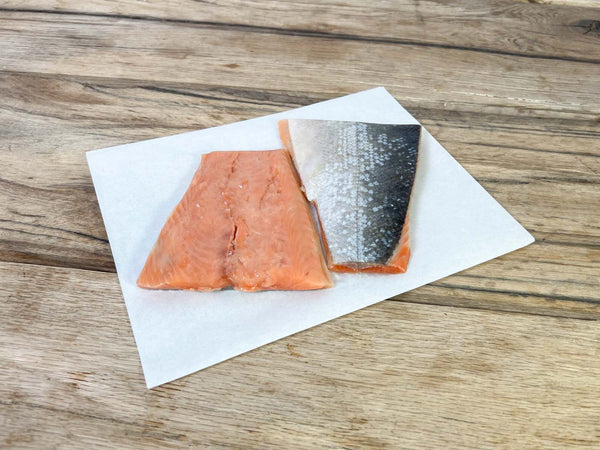 Wild Keta Salmon, Previously Frozen
Description
This species of salmon is paler in colour, with a delicate flavour and succulent, firm flesh due to having spent it's life swimming against fast currents in the Pacific ocean.
Wild caught with sustainability in mind, the fishermen are dedicated to maintaining healthy fish stocks for the future.
Ingredients
Contains fish. May contain traces of Molluscs and Crustaceans.
Producer
Sole of Discretion – the Sole of Discretion is a collection of small-scale fishers from the beautiful Plymouth harbourside, just a short drive from our farm. They focus on providing premium quality, ethical and sustainable fish with the environment in mind. All the fish and shellfish are caught with little damage to the surrounding marine environment, directly contributing to the livelihood of the small-scale fishermen and communities. A mix of rod, line, static gill, trammel nets and mid-water trawl fishing methods ensure the seabed is not impacted. The marine environment is also protected by low horse-power engines and habitat-mapping. The traceability of the fish is enhanced by the name of the fisherman and their boat on the packaging, which also adds a personal touch to each order.
&nbsp